Excerpt: The convergence of banks with FinTech firms is creating profitable digital banking strategic partnerships. Your loan sale advisor can assist your organization in developing these arrangements.
~~~
Big banks and Wall Street giants have tried to go it alone in the technology realm and have largely come up empty. Despite their efforts to innovate lending, payments, and other technologies, they have been bested at nearly every turn by financial technology companies, also known as FinTech firms. These technology disruptors were once considered a threat to the livelihood of banks, but attitudes have shifted now that many are agreeing on lucrative partnerships.
Banks and FinTech firms are now forming partnerships instead of being at financial odds.
The Future of the Banking Industry
Most banks have a reputation for being traditional organizations that are resistant to change. Unfortunately, this doesn't bode well for the future. Citigroup released a report in 2016 revealing that the banking industry is poised to lose between two and six million jobs over the next decade across the U.S. and Europe.
Much of this is attributed to technology innovations such as artificial intelligence (AI) and automation. In an effort to stay relevant, more and more financial professionals are registering for FinTech courses. In 2015, LinkedIn purchased online educational firm Lynda for $1.5 billion, which is one of the leading providers of online finance and technology courses.
The Convergence of Banks and Fintech
The contest that has existed between banks and FinTech firms in recent years has proven a no-win for both sides. Banks have found that failing to modernize their payment systems and lending practices is alienating long-term clients. Financial technology innovators have discovered that they also face several challenges. The first is significantly higher funding and marketing costs for loans, which impacts margins. The second is a trust factor, where some consumers are leery of handing personal data over to an untested source.
Both sides have come to realize that there are significant advantages to playing off of the strengths of the other when forming strategic partnerships. Banks not only have much lower costs of funds than FinTech firms, but they also have a loyal customer base from which to draw for business. Online lenders and other FinTech companies bring innovations to the table such as streamlined underwriting practices, payment systems, and loan origination software (LOS) for mortgages.
One example of a bank that has embraced both technology and FinTech partnerships is JPMorgan Chase. Not only does JPMorgan spend $9.5 billion annually on its own technology, but they also form strategic partnerships with FinTech Firms. For example, the bank just partnered with trading firm Virtu to enhance its dealer-to-dealer trading operations. The firm estimates that they will save as much as $4 billion in trade processing costs due to their partnerships.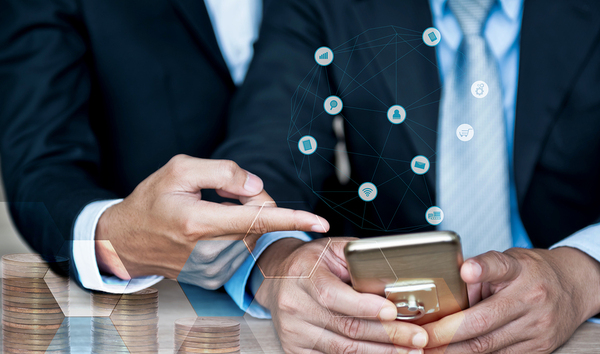 A whole loan broker can help facilitate the partnership between banks and FinTech companies.
A Loan Sale Advisor Can Help Broker Strategic Partnerships
The face of the banking industry has been changing over the past decade and will continue to evolve in the foreseeable future. Banks who fail to adapt by creating strategic partnerships with some of these technology innovators risk being left behind. The good news is that there are many FinTech firms who are actively seeking a mutually beneficial arrangement.
As a bank or credit union, it may be difficult to know where to begin to seek out and form a partnership with the right FinTech firm for your needs. In addition to our loan sale advisory services, Garnet Capital Advisors can help foster these vital relationships so that your organization can innovate and grow.
Sign up for our newsletter to receive up-to-date industry news as well as information about how a whole loan broker can benefit your business.